8th June 2020

Dear Parents/Caregivers

I am sure you were as pleased as we were to hear the Prime Minister's announcement about moving to Alert Level 1.  For us, there will be no major changes to what we are doing and our school continues to be safe to attend, including any staff and children who are considered more vulnerable to COVID. We have a good cleaning routine in place, people who are sick are staying at home and we continue to encourage good hygiene practices.
We are supporting contact tracing by having QR code posters at our entrances – so if you haven't already downloaded the NZ COVID Tracer app the Ministry of Health's NZ-COVID Tracer app page has information to help you do that. 
Teachers will continue to meet our children at the gate in the morning and bring the classes to the gate at the end of the day.  During Level 2 we have found the morning a very settled focus time and teachers have really loved building relationships with the children.  We have been impressed with the growth in independence and will expect these behaviours to continue.  Please note the children will access the main building from the deck area, as they have for the past few weeks.
What is changing is we can now look forward to inter-school and community sport, cultural events and to welcoming our school community to these activities.  Our coaches are meeting this week and we will look forward to practices starting soon.
We thank you for your continued support and look forward to seeing you all next week for our Learning Conversations on Tuesday 16th  and Wednesday 17th June.
Ngā mihi

Matangi School Staff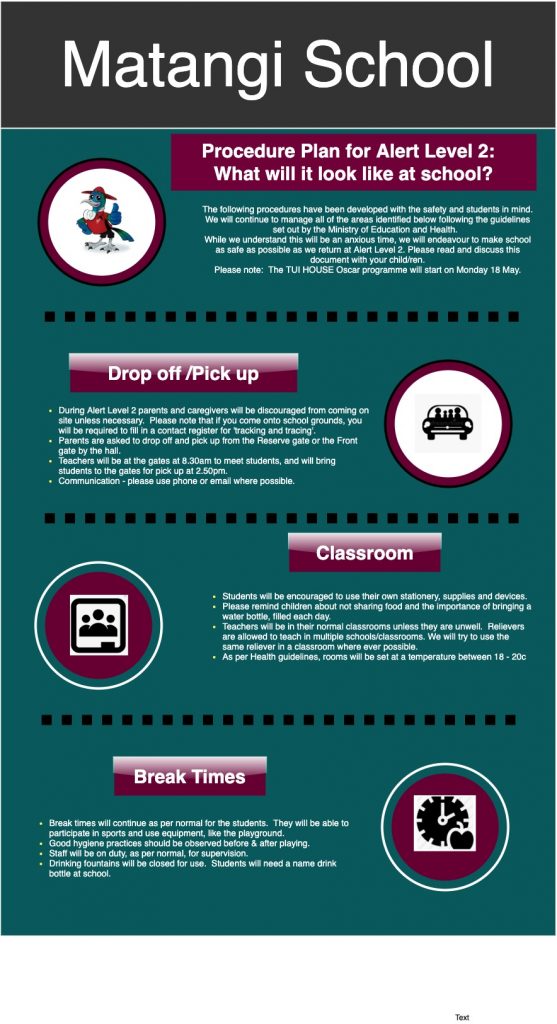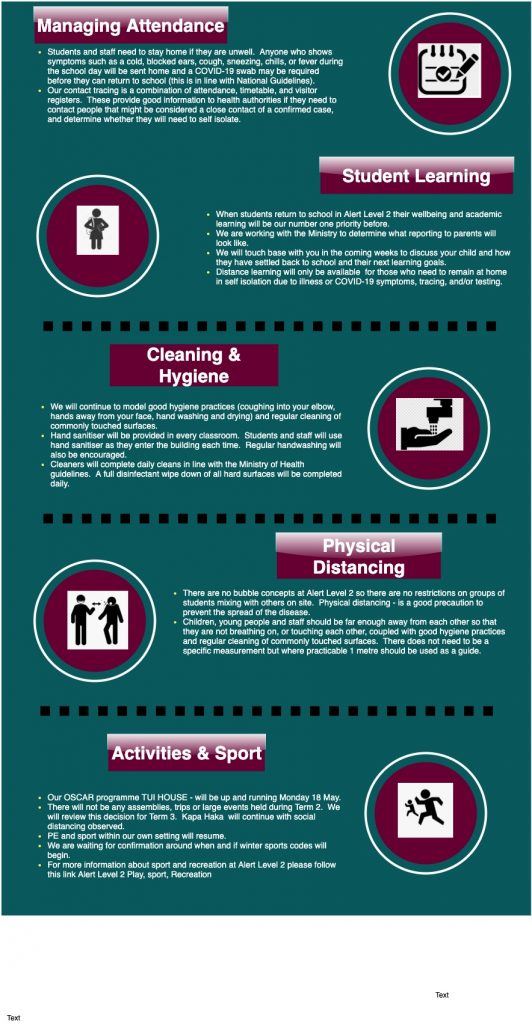 Ministry Update – 8 May 2020
 Level 2
Yesterday, the Prime Minister advised that in Alert Level 2 schools are safe environments for children, young people and staff and that additional public health control measures are in place to prevent the spread of disease and to support contact tracing.
The good news is that when we are able to, we will be ready to welcome all students and staff back to our school site. The expectation is that at Alert Level 2, with the exception of some students who are sick, all students will be attending. Please note that the Prime Minister advised that schools will not reopen mid-week after the announcement to move to Level 2 has been made – they will reopen the following Monday at the start of the week following the announcement. Distance learning will still be available for those students who require it due to self-isolation or illness. At Level 2 Ministry of Education bus transport will resume. 
The key Public Health approach is to minimise the risk that someone gets infected in the first place, and second to ensure we can identify and contact anyone who has been in close contact with a person, if someone in a school is infected.
As we have done in Alert Level 3, you can be assured that in Alert Level 2 we will know who is at school, who our staff and students have been in close contact with and take appropriate measures to keep everyone safe.
Physical distancing is a good precaution to prevent the spread of disease. We do however know it is challenging in schools, so good hygiene practices and regular cleaning are even more important here. This includes staff and students coughing into their elbows, handwashing and drying and regular cleaning of commonly touched surfaces.
Under Alert Level 2, we require any students and staff to stay at home if they are sick, and we will send anyone home immediately if they show any symptoms.
Our school has safe and sensible practices to maintain the health and safety of everyone on the school site. As described by Dr Payinda in his NZ Herald article, "Covid's not measles or chickenpox, it doesn't hang in the air for hours waiting to infect passers-by. It travels on invisible drops of spit. You don't have to cross the street to avoid anyone. Just avoid getting in their 'moist breath' zone". We all just need to remember to have some breathing space at Alert Level 2!
It's important however that not just at school but at home, safe hygiene habits are practised by everyone, as this is essential to minimise the risk that someone gets infected with Covid-19.
For more information about the public health measures at Alert Level 2, you can visit the covid19.govt.nz website: https://covid19.govt.nz/
Ministry Update - 8th April 2020
Distance Learning Resources

It's important to state up front that the Government is still working to a timeframe of a four-week lockdown, lifting on 22 April, but we're planning for every scenario so that we have a resilient system and are taking this opportunity to invest in closing the digital divide.
Online resources for schools and kura, parents, aakonga and whaanau will be available through the
Learning from Home
and
Ki te Ao Mārama
websites
Hard packs
We (Government) have had a lot of requests for learning material hard packs for learners and there are limits on what we can provide immediately. The first tranche of deliveries will make their way to homes on Thursday and will continue on Tuesday next week. For the Matangi School families who identified or we know do not have wifi we have requested 'hard packs'.
Home learning television
We want to ensure that every learner and ākonga has at least one channel for accessing educational content from 15 April – either through this package or through their school or kura.
So, we have been working with teachers and leaders, alongside staff from ERO and Te Kura to develop Home Learning TV | Papa Kāinga TV, on TVNZ, which will run from 9am to 3pm on school days on TVNZ2+1 and Sky channel 502. Some lessons will also be available on TVNZ On Demand.
There will be content for parents and whānau with preschool children and tamariki, and lessons for those aged 5 to 15 years of age will cover a broad curriculum that includes movement, music, physical education, wellbeing, numeracy, literacy and science through an integrated approach to curriculum. There's already a lot of good education video content available, and the Ministry will be working with experts and educators to refine and further develop it.
We have also been working with Māori Television to make distance learning accessible for all ākonga and whānau. The programmes on Māori Television are for reo Māori learners of all ages, with a focus on those who are aged 0-18, covering ākonga in kōhungahunga (early learning), kura tuatahi (primary) and wharekura (secondary).
Programming will be tailored to specific age groups of reo Māori learners throughout the day from 9am to 3pm. It will be aligned to
Te Marautanga o Aotearoa
and contain age appropriate content that tamariki can do on their own, with their siblings or together as a whānau. Content will focus on building skills in speaking te reo Māori, and ensure that te reo Māori is being spoken and heard in the home.
We will be putting information about the programme scheduling on the Learning from Home website early next week this will help teachers be able to connect with learners who are accessing these programmes.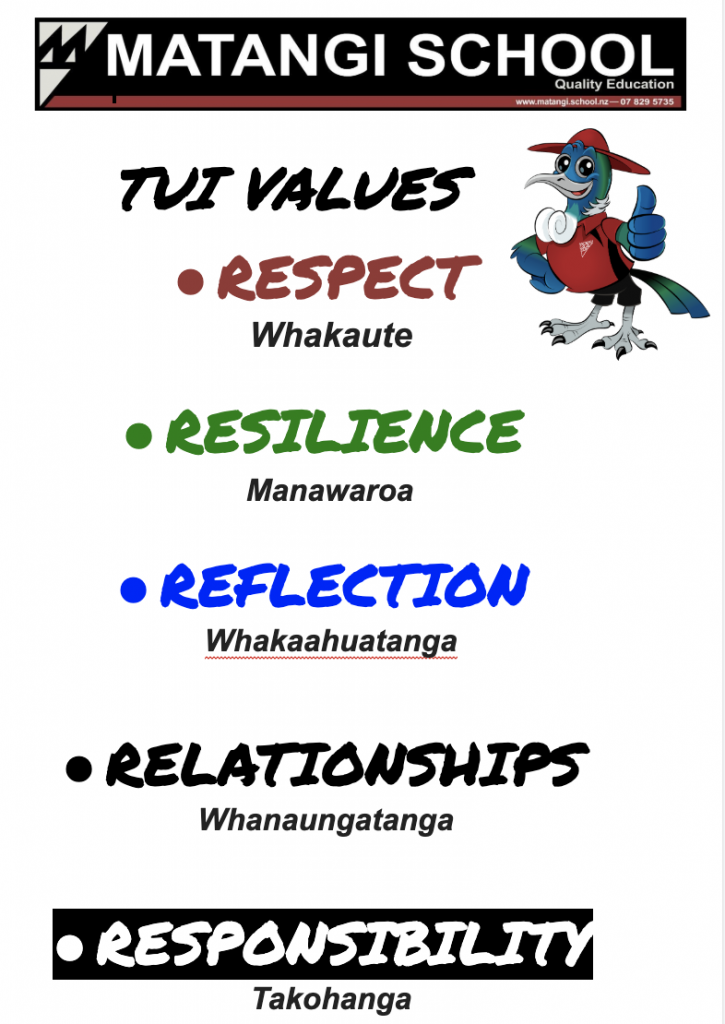 Ministry 0f Education Update 31 March 
Keeping on line safe
 You may want to encourage your parents, caregivers and whānau to discuss internet safety with their children – of all ages. They should agree with their children what they can do online including sites they can visit and appropriate behaviours including:
reviewing and approving games and apps before they are downloaded
reviewing privacy settings of sites and applications
checking children's profiles and what they are posting online
check the sites your child is accessing
reminding children that anything that is posted online will be permanently on the internet
taking the time to understand what sites they are visiting and who they are talking with and check in regularly
some social media sites have age restrictions to join, check these before letting your child use them or join them
monitoring a child's use of the internet and consider having them use it in an open, common area of the house
making sure your children know to report any activity they don't feel comfortable with to parents and caregivers straight away.
There is a unique opportunity during the lockdown of families going out together, albeit it close to home, but if your child is going out on their own it's still important to check where they are going.
If we all work together to make sure children are safe online, we can make the internet a great tool for people of all ages.
 Please see the latest Ministry of Education message.  27th March 2020
Kia ora koutou
 
We have started into a new phase of New Zealand's response to COVID-19 and it is very different than anything most of us have ever experienced.  I wanted to reassure you that our school staff and Board of Trustees will continue to be available to support your child's learning and wellbeing. 
 
You will understand the importance of routine for your family. If your routine has been shaken up, like you're now working from home, it's good to structure your time. Routines are reassuring, and promote health and physical wellbeing. The below timetable (targeted at children) could be something your household adapts to use over the next weeks. A school holiday version will likely look a little different, but some form of routine will still be important as we go through the lockdown period.
 
Daily Schedule
Before 9:00am
Wake up
Eat breakfast, make your bed, get dressed, put any dirty clothes in the laundry
9:00-10:00
Morning walk
Family walk with the dog, bike ride,
Yoga if it's raining
10:00-11:00
Learning at home
School-led learning or Sudoku, books, flash cards, study guide, journal etc
11:00-12:00
Creative time
Legos, magnatiles, drawing, crafting, play music, cook or bake etc.
12:00 pm
Lunch 🙂
12:30
Helping at home
# wipe all kitchen tables and chairs
# wipe all door handles, light switches and desk tops
# wipe both bathrooms – sinks and toilets
1:00-2:30
Quiet time
Reading, puzzles, nap, radio NZ stories
2:30-4:00
Learning at home
School-led learning or iPad games, Prodigy, Educational show
4:00-5:00
Afternoon fresh air
Bikes, walk the dog, play outside
5:00-6:00
Dinner 🙂
6:00-8:00
Free TV time
Kids shower time
8:00
Bedtime
All kids
Parent selected time!
Bedtime
All kids who follow the daily schedule & are kind to one another!
*Adapted from a resource developed by Jessica McHale Photography
 
There are links below to more wellbeing information to support your family during the lockdown.
 
Some good news to support you either working at home and/or studying at home – Spark, Vodafone, Vocus/Slingshot, 2Degrees and Trustpower have all advised they have removed their data caps and the possibility of any extra charges based on usage.
 
For our Pacific families, if you are not aware the Ministry for Pacific Peoples' has been working to ensure useful information is available to Pacific peoples. A one-hour special will be aired on Tagata Pasifika's segment on Saturday at 9am; and on Sunday at 7.35am, Tagata Pasifika will share messages from community leaders. The Ministry is asking you to reach out to all your family members, community groups, friends and group chats to ensure our Pacific community groups are watching the programming on both days.
 
A big thank you to all of you for taking the lockdown so seriously. As the Prime Minister has noted staying at home will break the chain and save lives; breaking the rules could risk someone close to you and if the rules are not complied with, this could risk the lock down period being extended or could risk the virus being spread to thousands
 
 
Ngā mihi
 
Information and resources to support wellbeing and support learning at home
25th March 2020
Dear Parents/Caregivers/Whaanau, 
Our staff and Board would like to pass on our thanks to the many families who stepped up and showed our Matangi Values during this critical time.  Your calm steady approach enabled us to put procedures in place to best meet the needs of our students, staff and families. We live in an amazing community.
Our teachers have been working hard to have online learning available. You can access key resources through Seesaw, our Website or the new Ministry of Education site for learning – https://learningfromhome.govt.nz 
We understand this is not practical or possible for all of our students, so all we ask is that you do your best to support your child with their learning. This will look different for each of you and that is ok. No child will be academically disadvantaged if you and your family are unable to complete distance learning throughout this time. To see further information on what we truly believe is important at this time check out the Nathan Wallis post that we have shared on our school Facebook page. 
A reminder: School holidays are being brought forward so that they are completed within the 4-week period. Holidays will now begin from Monday 30 March to Tuesday 14 April inclusive (a reminder that the Tuesday after Easter Monday is always a closed day for schools). 

Please note: At the end of the school holidays, schools will be open for distance learning with both students and teachers working from home. Teachers will be working offsite to support student learning while Alert Level 4 is in place.
As teachers are also dealing with the anxiety and uncertainty, for their own families, I ask that you respect this holiday period so that they can refresh and be ready to return to 'online' teaching on Wednesday 15th April.  
Thank you all for your support and understanding during this time and we look forward to seeing you all again when we are able to.
Stay safe and be well, keep connecting to each other – online contact is important.
If any family needs support during this time, please contact me directly, as we have many community members ready to help.  – principal@matangi.school.nz
Kai Kaha Matangi Community.