Our new student management student is called 'Hero' and it will also become our new Online Reporting Portal for parents. This enables us to be able to provide you as parents a picture of your students learning in real-time rather than the twice per year reports we have previously provided. Overtime, it will provide an excellent picture of what is happening in your child's class. This means that all hard copy reports (Mid and End of Year Reports/Learning Logs) will no longer be supplied on paper. All reporting to parents will be online and we will assist with the use of a device if required.
Matangi School teachers are undertaking professional development to provide you as parents with timely information on your child's progress throughout the year. These reports will consist of progress graphs across the curriculum and specific samples of work as evidence, so you have a clear picture of how your child is progressing. In the meantime we will be working towards the HERO platform, but will have an interim report for parents to view in Term 4.
HERO is a dynamic and robust reporting system that allows teachers, parents, and students to access learning in an online environment that is secure, easy, and effective. We are excited by the possibilities of keeping you all more informed and up-to-date about your child's progress.
It is important to note that this is a big change to our systems and although we have a robust roll out procedure planned, it will take some time to get it 100%.
What is LINC-ED HERO?
HERO is a robust system that allows teachers, parents, and students to access learning in an online environment that is secure, easy, and effective. It allows teachers to share learning anytime, anywhere and this can be viewed on any device. HERO is also the system we use for enrolment, finance and student attendance.
What can you see in HERO?
Messages and notifications: We will no longer be using our school app, as we can send out notifications via Hero. You may get notices from your child's whānau teacher, their hub, or from the school office or John, our communications manager.

Learning report: When you click on your child's learning profile, you will see their learning report. This is a 'living report', meaning it will be automatically updated as your child achieves learning goals or is issued with new goals. The report shows progress in reading, writing, mathematics, and our Journey of Growth and Development (social and emotional growth). Each key area includes 'dials' that show how your child is progressing through the year levels. Clicking on the year level labels will allow you to see all goals in that year level. There will be up to three goals showing in each area for your child, although they may actually have more goals set 'behind the scenes'. At two points during the year a general comment will be added to the report to summarise your child's progress. This will also include a reflection from your child.

Learning posts: When your child or your child's teachers upload learning to Hero, you will be able to view the posts. Please note that all uploads learning are private,and are only viewable by teachers, the child and the child's parents.

Financial information: You can view and pay any invoices from the school.
Parent guide to accessing HERO
Please follow this link for a step by step guide to signing up to LINC-ED Hero.
We recommend having the LINC-ED Hero app on your home device/s and your phone, so that you can easily access any notifications or information sent out from school.
If you have any questions or issues about accessing LINC-ED Hero, please contact Helena Kirkham or Janelle Bailey: hkirkham@matangi.school.nz or office@matangi.school.nz
Assessment and Reporting at Matangi School.
Assessment and reporting looks slightly different across the school, and this can sometimes be confusing. This article is an overview of how assessment and reporting works at Matangi.
At Matangi School we endeavour to provide up to date learning information on an ongoing basis throughout the year. Through our learning management system, LINC-ED Hero, parents can view the learning report of their child/ren at all times. This report shows the progress and some next steps for each child in the areas of reading, writing, mathematics, and the Journey of Growth and Development (social and emotional development).
In each of these learning areas, parents can view information similar to this: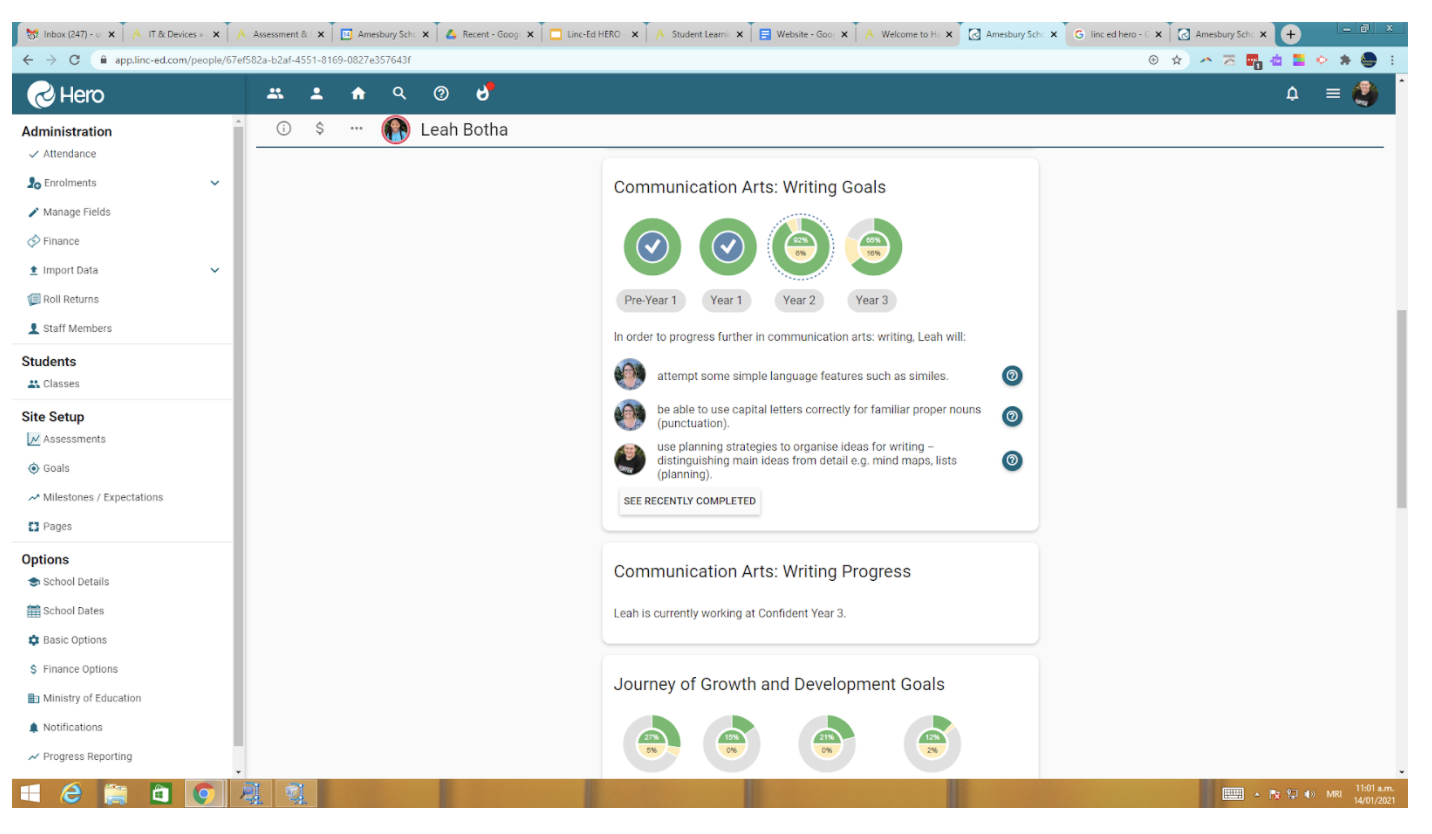 The green dials show progress across a range of indicators for each year level. A blue tick in the centre shows when all indicators at that level have been achieved. Yellow indicators show indicators that are set as goals for the student, and grey ones show indicators that have not yet been achieved or set as goals.
Clicking on each year level label will display the indicators for each level, as shown below. Again, indicators displayed in green show ones the child has already achieved, yellow indicators show ones set currently as goals, and indicators displayed in black show goals not yet achieved or set for the child.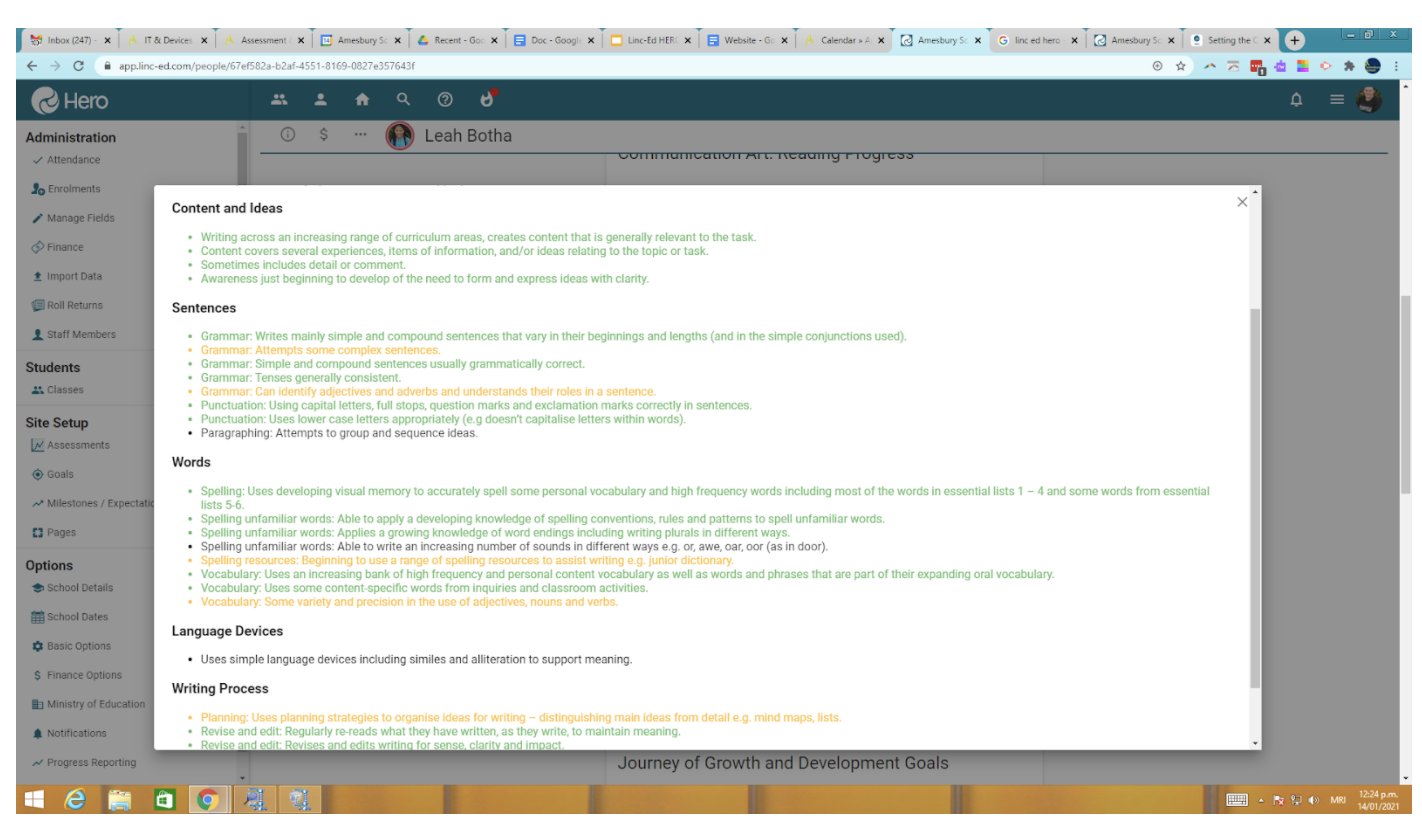 At the bottom of each section, an overall level is indicated to show the year level the student is currently working at, and whether they are working at an 'early' or 'confidence' level in that year level.
All of this learning information is available continuously throughout the year. Each term teachers will communicate with parents about their child's progress:
Term 1 we hold Learning Conversations. This is a great opportunity for you to talk to your child's teacher; establish goals that will guide your child to achieve across the Matangi Curriculum.

Term 3 teachers hold Student-Led Conferences, where each student and their parents meet with their whānau teacher to talk through their learning progress and current learning goals. In Years 3-6, we encourage students to largely lead the conferences and do much of the talking and sharing about their learning.

Terms 2 and 4 teachers complete a summary about each child to give an overview of where they are currently at in their learning and behaviour at school. Students also write their own reflection about their time at school, and this is included in the summary. This is then added to the learning report on LINC-ED Hero.
Throughout the year, teachers and students will upload evidence of learning to each child's portfolio on LINC-ED Hero. Parents will be notified through Hero when a learning post has been added, and parents can view the work online throughout the year.
All learning and assessment information for each child is private, and can only be viewed by the student, their parents and teachers.
We expect to roll HERO out slowly and will provide an alternative report while we do this.