Matangi School provides a well balanced curriculum.  Using our schoolwide values, Respect, Reflection, Responsibility, Resilience and Relationships to build  a foundation of confidence in our learners to become independent when accessing the curriculum.   The Core Curriculum areas of Literacy and Numeracy are the vehicle to access other areas of the NZ Curriculum, like Science, Arts, Health & PE.
We start with the foundations of Literacy and Numeracy,  apply these skills to gain a greater understanding of our world and those around us.  Our teachers use deliberate instruction in both Literacy and Numeracy outlined in the New Zealand Curriculum documents, with a focus on teaching the foundations of literacy & numeracy in a systematic, and cumulative approach where direct instruction (in a crucial skill) leads to increased student outcomes.  Having a consistent schoolwide approach ensures continued success as children move through the curriculum levels. 
In 2019 we have been working with Learning Matters Ltd- where a consistent schoolwide approach ensures foundation skills and knowledge are developed, and takes into account how the brain and body work together – having an approach that maximises the impact a teacher can have.
Below is an outline of the Foundations of learning in Literacy.   Every child is identified on this gradient and their learning plan is built from here.  (Please note the below information has been sourced from resources provided by Learning Matters Ltd and remain under copyright protection, both in print and digital format to Learning Matters Ltd, 2019.  – This summary of information is to provide our parents with an overview of our current programme and practice.)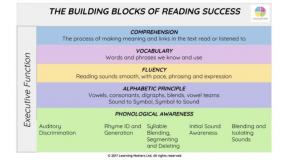 (Copyright – Learning Matters Ltd 2019)
Each section in the 'Building Blocks of Reading' above has a series of skills.   The foundations of literacy begins by understanding sounds can be represented by symbols (letters or combination of letters).  While each aspect of "Building Blocks' has it specific skill set, the above foundation skills are used across reading, spelling and writing.  Below is  a brief understanding around each aspect – while this is not the complete list – it provides a brief overview of the aspects we are teaching.  The structure programme has been developed by Learning Matters Ltd.  You will see yellow highlighted aspects – which are helpful hints for home practice
Children are introduced and move through these 'Building Blocks',  'as fast as they can, but as slow as they need'.  Teachers provide a range of experiences to enable students to understand, apply and transfer their skills.   These experiences are often linked to the teachers knowledge of the child, their interests, developing growth mindset, confidence and readiness for learning and acceleration.
Building Blocks – 
Phonological Awareness:                                                                                 Alphabetic Principle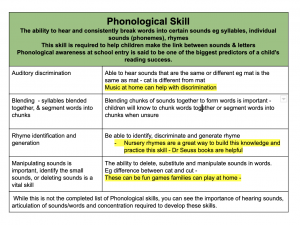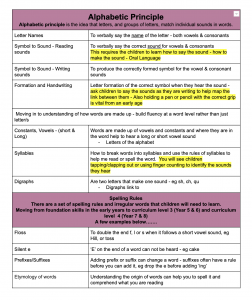 Fluency                                                                      Vocabulary                                                 Comprehension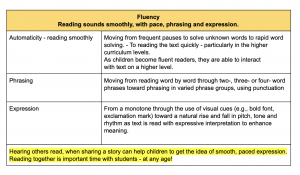 .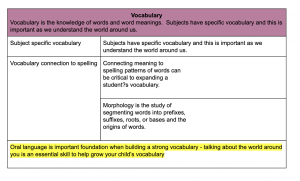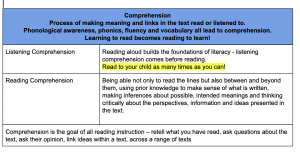 Teaching Spelling Concepts
Children are taught words based around the above skills and patterns.  You will notice their spelling words will be linked in someway
– eg:             Spelling pattern, 'oo' or 'or' or short/long vowels
Spelling rule – 'i before e' – silent e
Sight words – words that often don't have a pattern but just need to be recalled on sight
Irregular words – that don't have a pattern
Vocabulary words – topic specific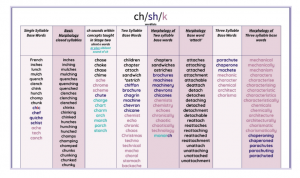 Copyright – Learning Matters Ltd 2019
Dictated Sentences 
This teaching technique helps to combine the listening of sounds  to the written symbol.  This is a helpful next step for at home learning, if spelling words have been mastered, but need written practice.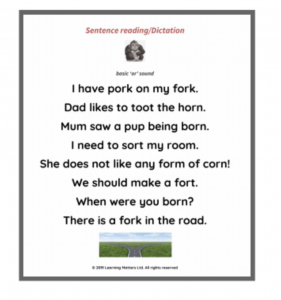 Copyright – Learning Matters Ltd 2019