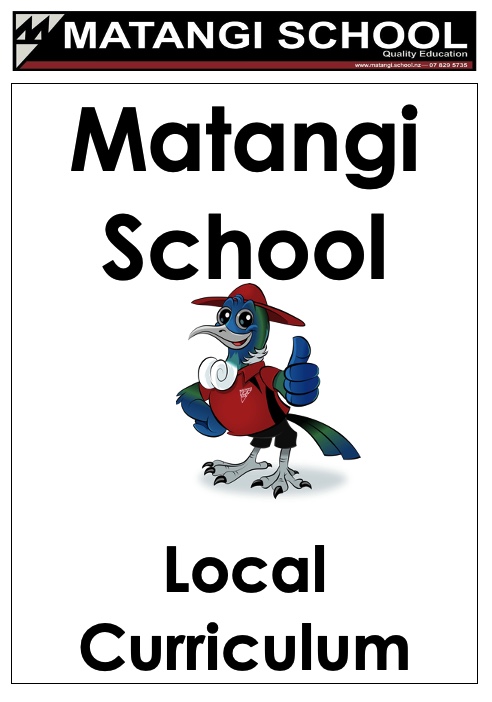 VISION: Empowering Learners to Make a Positive Impact
VALUES: Respect Resilience Reflection Responsibility Relationships
Matangi Integrated Unit Plan
Our People – Iwi

To strengthen connections with our learning community

Our Place – Turangawaewae

To build our rural heritage and create an optimal learning environment

Our Practice – Mahi

Strengthen teacher capability to enhance and sustain practice to make effective impact
Matangi Local Curriculum

Concepts

Conceptual Understandings

Growing Together

Tupu Ngātahi

Health, Social Science, English, and The Arts Curriculum.

Making links to our school focus of Growing Together – Tupu Ngātahi is important. It explores the identity of our students, the way that we interact and support one another in our school and community, and explores the impact that we have on each other and our environment. It explores our cultural identity of our students and school community and reflects the importance of Our People (Iwi). Students establish relationships with each other. Through the building of these relationships, they connect, communicate, think, support, and care for one another.

Seek Challenge

Rapua te Wero

Health and PE, Social Science, Mathematics, and English Curriculum.

This is a focus where students Seek Challenge – Rapua te Wero. Students learn to identify their own strengths and talents and the strengths and talents of others. They learn to take on opportunities for new learning or encourage others to do so. They set goals across the curriculum and share these with their parents and caregivers. Relationships are strengthened in this focus as students get to work with others on projects that take them out of their comfort zone and in a zone of proximal development. Positive mind set is explored and used as a motivation for those students who require it. Class and school expectations are reiterated and strengthened in the conceptual framework. It explores the concept of Our Practice – Mahi. What we do and how we approach our learning and practices have an impact on ourselves and others.

Take Action

Mahi Mahi

Health and PE, Social Science, Mathematics, English, Science, and Technology Curriculum.

This conceptual understanding encourages students to Take Action – Mahi Mahi.They identify a need/opportunity/ or problem in our environment and they devise a plan of action to accommodate what is required. Students get to explore their local community and tap into the resources that they have nearby. They identify the ways that they could make an impact to their, people, their place, and/or their practice. They think about the things that they have done and what they could potentially do; seek opportunities to take action.

Aim High

Whainga Teitei

Health and PE, Social Science, Mathematics, English, Science, The Arts, and Technology Curriculum.

Aim High – Whainga Teitei encapsulates all of the conceptual understandings. It creates a learning context where students can apply the learning that they have received in class along with their own experiences. They explore their individual progress and think about ways in which their 'expertise' could be used to have an impact on themselves, others, and the environment. They think about the people that may assist in the ability to aim high. They reflect on their own capabilities and think what they may need to challenge themselves and aim for a goal or benchmark that seems just outside their reach. They learn how to set SMART goals and think about the things that they need to do to ensure their goal is worked on and achieved. They reflect on their practice and make the necessary changes to develop and grow as a learner.
Challenge- Thinking and Communicating:

The Ways We Can Think and Communicate

Making Links to our Local Curriculum – Conceptual Framework

Growing Together / Seek Challenge / Aim High / Take Action

Caring

Students who think in a caring way require the following: an interest in others, flexibility, communication skills, a willingness to learn, the ability to organise, plan, and multi-process, patience, and empathy. Caring is a necessary characteristic of critical thinkers for ideas and arguments do not have a life on their own. Caring becomes a part of being a constructive thinker – without caring, we cannot expect our students to be critical or creative thinkers as they won't be mindful of the impact that their message, thinking, behaviours, and attitudes have on others. If we want our students to be making decisions that have a positive impact on themselves, others, and our environment, then we need to expect and/or teach them how to care. Students will be expected to communicate in a caring way – being a bucket-filler. Our conceptual framework will enable students to acknowledge the importance of showing unity: in Growing Together, and identifying that their actions in our 'Take Action' programme will have an impact. These concepts create a learning environment that allows our students to learn and apply caring thinking and skills as life-long learners.

Critical

Critical thinking is the ability to think clearly, understand logical connections between concepts; and explore the ideas of cause and effect e.g. if I was to do this, how would that effect myself, others, the environment? The skills required from a student to be a critical thinker are: self-management, engagement, persistence, flexibility, cognition maturity, metacognition, and accuracy.

Students need to be given the opportunity to observe, analyse, interpret, reflect, evaluate, infer, explain, problem solve, and make decisions in their everyday lives. To foster and nurture critical thinking in our students, they need to be: given opportunities to explore the world they live in, given time to think and solve their own problems, prompted and encouraged to think critically, trusted to make decisions that will ultimately have an impact on themselves and others. The learning environment needs to be reflective of this – setting up our programmes that allow students to think critically with themselves and others.

Allowing students to communicate their thinking and teaching them the different ways that they can communicate their ideas to others is paramount in the success of this in our classrooms. Students need to be expected to not only think critically and share this in a classroom setting, but also to listen to the ideas of others. The way that they respond to these ideas is also an important part of the learning domain. Students need to be given opportunities to critically respond to the information given and received.

Creative

Creative thinking is the ability to invent and/or create something new: be that a concept, a solution, a method, a work of art, or an actual, physical device. Creative thinking is based on looking at things in a new way that hasn't previously been considered. That's why it's often described as "thinking outside the box." Creative Skills involve the following: curiosity, problem solving, creative writing, open-mindedness, analytical thinking, active listening, designing and creating, and leadership.

Curiosity makes our brains more receptive for learning, and that as we learn, we enjoy the sensation of learning. Curious students not only ask questions, but also actively seek out the answers.

Problem Solving is tackling unexpected problems and requires a lot of creativity. Allowing students to solve problems for themselves fosters innovative thinking and self-management.

Creative Writing is one of the most typical yet in-demand creative skills. If students are able to write in compelling, creative ways, it will help them to communicate their thinking and give us an insight into their full potential. Creative writing just doesn't happen during 'writing' times; students can write creatively in all areas of the Curriculum – as communicators.

When we promote open-mindedness in our classrooms, we oppose stereotypes and look for new solutions and methods of doing things, instead of doing things they're always done.

If we can encourage our students to gather information and data, then teach them the skills to analyse this information; we are ultimately scaffolding them into being creative thinkers. Creativity in analytical thinking helps students extract meaning from sets of raw data, text types, images etc.

Communication is crucial in creative thinkers. No matter how great their ideas are, if they are unable to communicate in an engaging and creative way, we'll never get our students implement their ideas nor allow them to model creative thinking to other students.

Through active listening students process ideas better so that they can challenge and refine them later during a creative brainstorming session.

Allowing our students to think about and design a new idea, product, or system gives them the opportunity to explore a variety of curriculum areas in the one lesson. Integrating digital skills is really important at this stage as students get to explore different and creative ways to think and communicate.

Leadership is all about inspiring others. Encouraging our students to lead others, design new ideas and challenges for a specific group of people, and working with students at the same age or students who are older/younger, promotes a collaborative approach and fosters creative leadership in students who are ready for this challenge.
Ways of Delivery – Creating a Learning Environment
Oral
Visual
Tactile
Kinaesthetic

Auditory learners learn by listening. They learn well in classrooms, listening to teachers talk or by watching talks or speeches, or by listening to digital presentations. Students are given opportunities to share their ideas and listen to the ideas of others. Auditory learners often talk to themselves, move their lips, or read out loud. They sometimes have difficulty with reading and writing tasks because they respond better to talking and listening to the ideas of others.

Teachers can support auditory leaners by allowing students to talk about their ideas, reading aloud, and reiterate the learning or instruction so that they can make meaning of it.

Visual learners learn by seeing. Making meaning is achieved through 'seeing' the learning, having it presented in a diagram, graph, or a mind map. Visual learners use written information or watching a demonstration to process the information.

Teachers can support visual learners by including handouts to reread after the lesson, allow students to take notes, and invite questions to help them stay alert in class. During the lesson students are given opportunities to use diagrams, mind-maps or written notes to help them in their learning.

Tactile learners learn by touching and doing. They understand and remember things through physical movement. They are a "hands-on" learners who prefer to touch, move, build, or draw what they learn, and tend to learn better when some type of physical activity is involved. They also learn through emotions and enjoy demonstrations as part of the delivery.

Some tactile learners tend to struggle with having neat handwriting, talk fast, use hands to communicate, and tend to collect things.

Teachers can support tactile learners by including role-playing in the classroom, have background music playing, take frequent breaks, and have regular breaks in their day. Some students respond well to sitting in a bean bag as opposed to a hard chair.

Kinaesthetic learners need to move. Kinaesthetic learners have excellent physical memory; they learn quickly and permanently what they do as they are learning. They learn through actions and body movements. Kinaesthetic learners generally have good hand-eye coordination, quick reactions, and have an excellent sense of their body in space and body timing.

Teachers can support kinaesthetic learners by allowing them to move. Let them stand up or swing their legs. Let them to synthesise their thinking by sketching what they learned. Keep intensive teaching moments short. Break up their tasks in manageable segments and teach them to relaxation and deep breathing techniques.