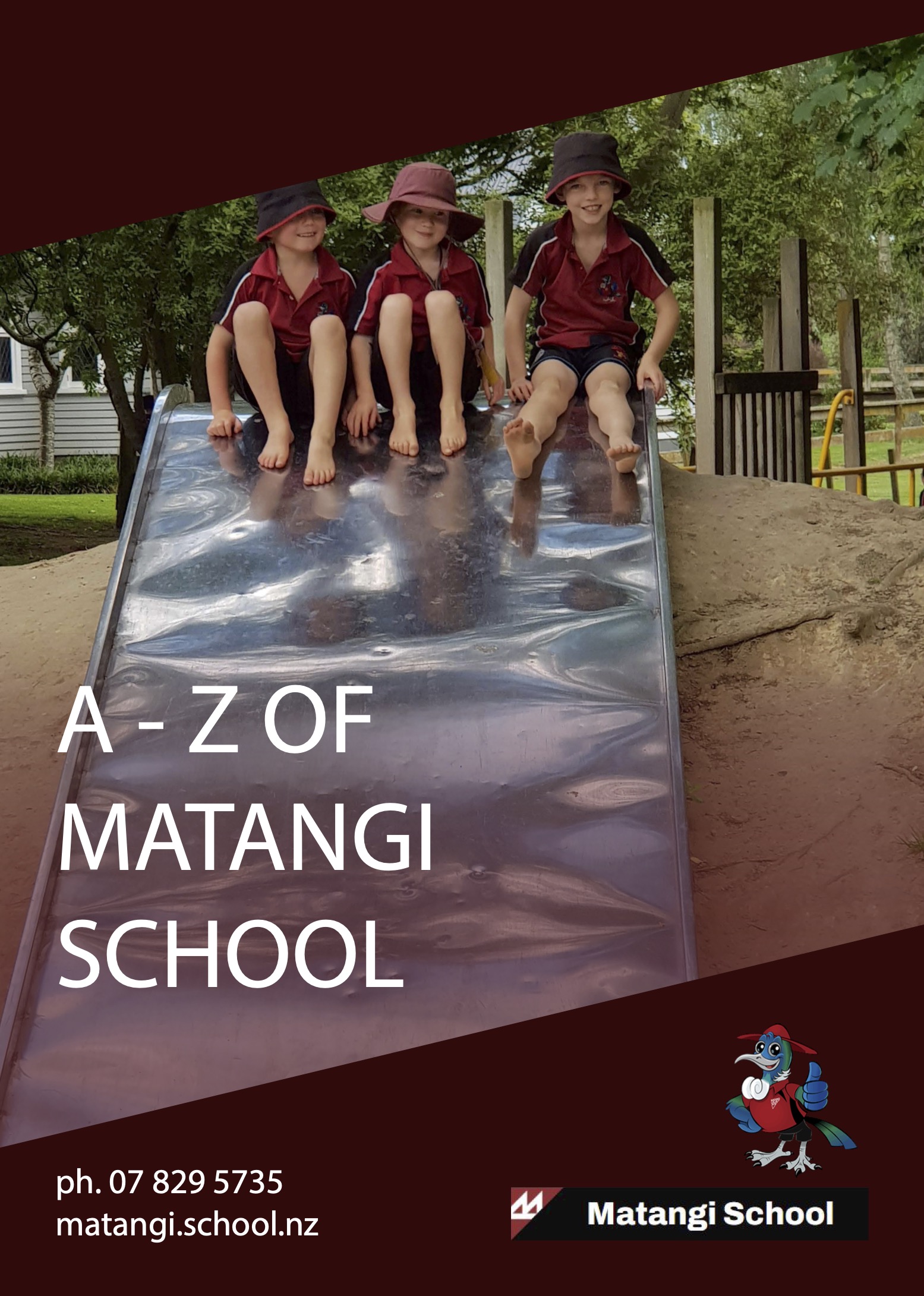 (Click on the image to view the booklet)
Frequently asked questions
Does Matangi School have a uniform?
Yes. The school uniform consists of a Matangi polo shirt (short or long sleeved) and matching fleece sweater for colder times. Children must wear plain black bottoms (shorts, skirts, pants) with the school tops.
What sport facilities does Matangi School have?
Matangi School has many sporting facitlities.
Swimming Pool: We are fortunate to have a 25m swimming pool on site that is used daily during Terms 1 and 4. It is equipped with 2 large changing sheds, covered seating and storage facilities. Because of it's quality, our pool is used to host inter-school swimming competitions. We ask that students wear a swimming cap at the swimming lessons.
We have also recently had our tennis courts Astro-turfed. Sports such as basketball, hockey and many others utilise this fantastic facility.
School field: Matangi School has a very large school field that fits both soccer and rugby fields with plenty of room to spare!
Does Matangi School have an open-door policy?
Yes. Visits to the school are most welcome. If you require time with a particular staff member out of school hours please phone the office to make an appointment.
Is there an after school care service?
Yes. Before and after-school care is provided by the Tui House.
What are the school's hours?
School begins at 8.55am and finishes at 2.50pm.
As a parent, how do I make an appointment to speak with the Principal?
Please call the school office and make an appointment
General information about Matangi School
Tui Riffic
Our icon for excellence 'Tui Riffic' was developed by staff and students during 2012. Our Tui represents our Matangi students who strive for excellence in everything they do.
On his wings TUI Riffic carries the 4 corner stone Vision statements from the NZ Curriculum – Confident, Connected, Actively Involved and Life Long Learners.
Tui Riffic values our 5 school core values of:
RESPECT RESILIENCE REFLECTION RELATIONSHIPS RESPONSIBILITY
Tui is celebrated at Matangi School through:
We have a school Tui Riffic song which is sang at various times / events

Tui Riffic music video

School wide Tui Riffic – Tui Bands
Tui Riffic Bands
There are four coloured silicon wrist bands that all students have an opportunity of being presented with. Green – Sports & The Arts, Blue – Academic, Yellow – School Values.
Once a band has been achieved students begin to strive towards achieving another band. Students can receive more than one band in each colour.
Each band has 'MATANGI TUI RIFFIC STUDENT' debossed into it.
These bands are designed to give the students constant reminders of the importance to do the best they can while learning at Matangi School.
Matangi School Bell Times
8:55am – School Starts / Session 1
10:30am – Morning Tea
10:50am – Session 2
11:25am – Brain Break
11:30am – Session 3
12:30pm – Lunch
1:20pm – Session 4
2:50pm Home Time